Linen Care

Washing
Our linen can be washed in a washing machine - plain white linen at 60 degrees and coloured linen at 40 degrees. We don't recommend bleach as it can damage any sort of fabric. The lightly quilted bed covers should be dry cleaned due to the lining and the fact that they are probably too heavy for a domestic washing machine. The merino wool and linen throws should also be dry cleaned, as the wool has not been pre-shrunk.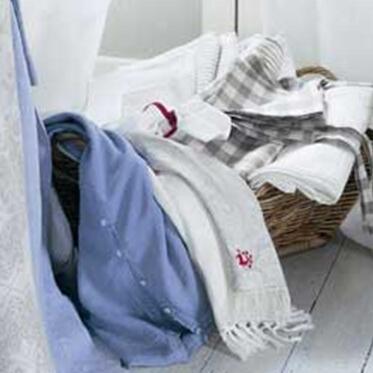 Stains
We often get asked, "What do I do if red wine is spilt on my white damask tablecloth?" There are all sorts of methods for stain removal, some conflicting. Jocastalnnes has written a very good book," Home Time" (Ebury Press, 2002) which has a very comprehensive section on stain removal.
Shrinkage
Some of our linen will shrink by about 2% after the first wash - we have factored this into all our sizing. If you buy our ready to hang curtains remember to either wash them before you hem them or allow for the 2% shrinkage when hemming.

Tumble drying
We do not recommend tumble drying in our washing instructions, as it always decreases the life of any fabric (think of the fluff in the filter!). Having said that, it is unreasonable to expect people not to use their dryers - it is obviously a more practical way of drying things, and everything comes out beautifully supple and soft . Try not to let linen dry completely if you are going to iron - linen is much easier to iron while damp. If you dry linen completely in the tumble dryer, it may appear to have drastically shrunk . The fibres have just been compacted together and will return to normal after a quick press with an iron (and a spray of water).
Ironing
The dreaded ironing! Firstly, as already mentioned, you don't have to. It is perfectly fine to wash your linen sheets, dry them and put them straight back on your bed. It will look slightly creased, but if you don't mind, and ironing is not one of your favourite pass times then that's fine.
However , if you like the idea of pressed linen sheets , table cloths , napkins etc ironing can be an enjoyable and therapeutic experience! Put on the radio,watch TV, listen to a book on tape – there are endless ways of making ironing less of a drag.
Here are a few ironing tips:
- Always iron linen while still damp (it's much easier to get rid of the creases) - then fold and put in an airing cupboard or somewhere warm.
- Use a steam iron.
- Linen water is a great invention – fragranced water that can be sprayed on as you iron. It smells great and helps with the ironing too.
- Iron folded sheets, duvet covers and tablecloths –if you don't mind the chequer board creases ( which we like ) , then this can reduce the time it takes.
- Use starch for table linen and clothes for that crisp linen look. It will also slightly protect the linen from stains.
- Ironing embroidered linen can be difficult, as the iron can get caught in the stitching and cause damage. Just place a piece of plain material over the top and iron the two together.